MyAPEEE – what is it?
MyAPEEE is a members' only  platform which is designed to allow members access to various functions such as: to view and manage detailed information about their subscriptions, to consult the APEEE documents library and the APEEE newsletters, as well as to access various functions as the enrolment to the services and the e-sales (Springfest tickets, Students' projects...)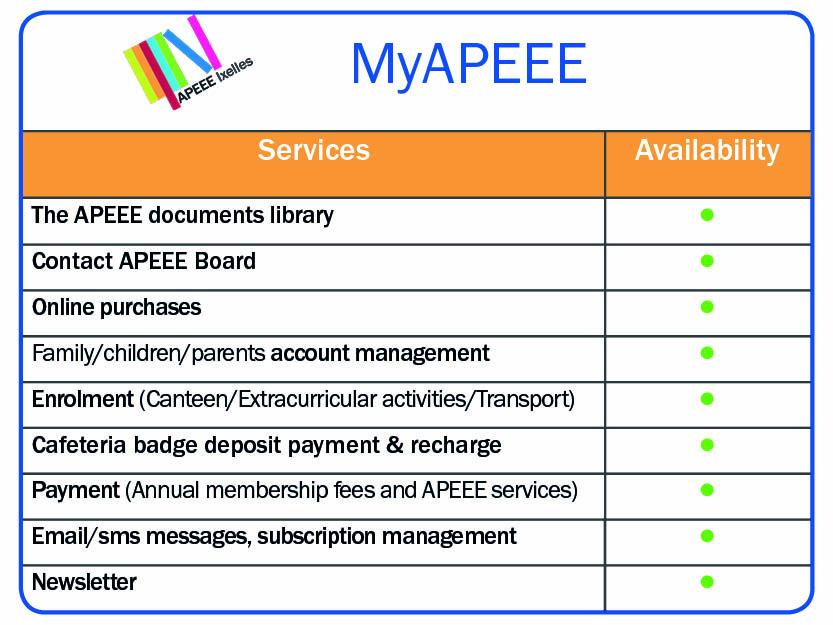 ​
Two FAQ about MyAPEEE
How do I log in to MyAPEEE?
To log in, click on the button MyAPEEE in the homepage of the APEEE website. To access the first time, you will need to request a new login (automatic on the login page)
How to enroll to one of the services?
Log in to 

MyAPEEE

 using your usual credentials. 
If you have difficulty in logging in, please request a new password by clicking HERE.
If it still doesn't work, please contact enrolment@apeeeb3.be
Follow the links below to watch the video tutorials which will give you step-by-step indications in order to pay the annual fee and enroll to each of the three services.
Annual fee: https://vimeo.com/420342810 
Transport Enrolment: https://vimeo.com/421482229
Canteen Enrolment: https://vimeo.com/421563137
Extracurricular Activities Enrolment: https://vimeo.com/421924335