MyAPEEE – what is it?
MyAPEEE is a members' only  platform which is designed to allow members access to various functions such as: to view and manage detailed information about their subscriptions, to consult the APEEE documents library and the APEEE newsletters, as well as to access various functions as the enrolment to the services and the e-sales (Springfest tickets, Students' projects...)
The full set of MyAPEEE functions will become operational over the next few months. For the time being, a limited number of functions are available and summarised in the table below:
​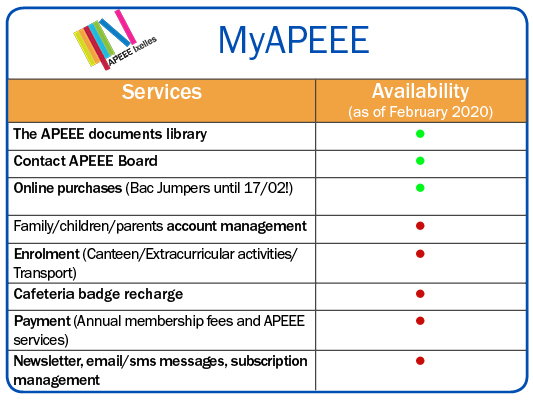 ​
Two FAQ about MyAPEEE
How do I log in to MyAPEEE?
To log in, click on the button MyAPEEE in the homepage of the APEEE website. To access the first time, you will need to request a new login (automatic on the login page)
I would like to enroll to one of the services, but I cannot find anything in MyAPEEE?
The enrolment platform is not yet part of MyAPEEE. For the moment, please click on the Enrolment Platform button in the homepage of the APEEE website, and log in as usual.